INTERNET WIRE
By mid-October, there is nothing my body craves more than a sweet-tart crunchy apple fresh off the tree, still glistening with dew. An apple in the springtime simply isn't the same, and my body knows it. Just as I prefer to wear a ski jacket in a blizzard or a sundress in a heatwave, or ice skate in winter and picnic in summer, I like to adjust my diet according to the climate and time of year.
Traditionally, autumn is a time to gather the harvest, wrap up in warm clothes, and retreat indoors for the cooler weather. As the flowering, expansive energy of summer gives way to the contracting energy of the fall, we go inward on many levels. Both Ayurveda and Chinese medicine therefore advise us to prepare food according to this shifting energy, staying in sync with the influences of autumn. This means eating hearty foods that are concentrated with nutrition and cooking them at lower temperatures for longer periods of time. Doing this enables our food to gather energy and warmth that will fuel our bodies through the coming winter.
Dense vegetables such as roots, tubers, corn, and winter squash, as well as nuts and seeds, are perfect ways to nourish and thicken the blood—another perk in frigid weather. Warming spices like ginger, mustard seeds, and cinnamon also taste right, as do members of the onion family (i.e., garlic and leek). In addition to generating heat in your body, these foods also support your immune system for the imminent cold and flu season.
By nature, sour foods stimulate contraction and are therefore beneficial for reining in the more scattered energy of a playful summer and promoting the mental focus we need for work or study. For instance, lemons, limes, yogurt, sourdough breads, and, of course, tart apples are ideal fare for the season, as are vinegars, sauerkraut, and pickles—though with these, a little goes a long way.
As the leaves change from vibrant green to all shades of red and yellow and then to brittle browns, it's easy to see one of the most obvious characteristics of autumn: dryness. To offset the drying influence, it's good to include moistening foods, such as pears, apples, honey, nuts, seeds, and soy products like tofu and soymilk. Barley and millet are also nourishing, as are all kinds of edible mushrooms.
There's nothing more inviting on a brisk autumn day than coming home to the wonderful aromas of a tasty soup simmering on the stove. So keep your kitchen warm, welcoming, and smelling good with nutritious food to nourish and nurture your loved ones.
Recipe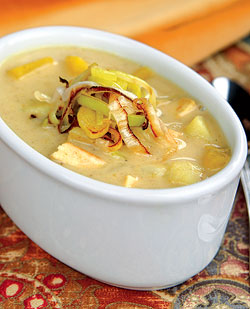 Mellow Potato Curry
Beautifully textured and laced with warming curry spices like cumin, mustard, and chili, this mellow, delicious soup is a silken delight for the palate. Though elegant and great for entertaining, it's also agreeable family fare—especially served with crispy vegetable samosas and basmati rice.
Ingredients
7 cups water
6 cups cubed Yukon Gold potato (about 6 potatoes)
3 cups cubed butternut or other sweet squash (about 1½ pounds)
1½ teaspoons madras curry powder
3/4 teaspoon black pepper
3 teaspoons salt or to taste
4 tablespoons ghee or olive oil
1½ cups finely cubed extra-firm tofu
1½ cups finely sliced leek (about 2 leeks)
1/2 cup unsalted peanut butter*
1/2 teaspoon cumin seeds
1/2 teaspoon black mustard seeds
1/2 teaspoon dried chili flakes
1/4 cup finely diced zucchini
2 tablespoons minced cilantro or mint leaves (optional)
*If using salted peanut butter, reduce the salt by 1/2 teaspoon and adjust to taste.
Procedure
Place the water, potato, squash, curry powder, pepper, and 2½ teaspoons of the salt in a 5-quart pot and bring to a boil over high heat. Reduce the heat to medium, cover, and simmer for 10 to 15 minutes until the potato and squash are tender.
Meanwhile, heat 2 tablespoons of the ghee or olive oil over high heat in a medium skillet and add the tofu, leek, and remaining 1/2 teaspoon salt. Pan-fry for 5 to 10 minutes, stirring occasionally, until the tofu is golden on most sides. Set aside.
Remove 2 cups of broth and 2 cups of tender potatoes and squash, place in a blender along with the peanut butter, and blend until smooth. Return to the soup and stir through.
Add the tofu and half of the leek to the soup (reserve the rest for garnishing). Then, using the same frying pan, heat the remaining 2 tablespoons of ghee or oil over high heat. Add the cumin seeds and sizzle for about 20 to 30 seconds until the seeds turn a dark brown, then add the mustard seeds and chili flakes. Sizzle for another 5 to 10 seconds, then immediately add to the soup. Watch out for sputter!
Add the zucchini and cilantro or mint (optional) to the soup, remove from the heat, and let it sit for a couple minutes to let the zucchini soften slightly. Ladle into bowls, garnish with the reserved leek, and serve.
Hands-on prep time: 20 minutes
Cook time: 25 minutes
Total time: 45 minutes
Makes about 12 cups
Wai Lana hosts the long-running TV series Wai Lana Yoga, which airs nationally on PBS. She is the author of Wai Lana's Favorite Juices and the new Wai Lana's Favorite Soups. For more information, please visit www.wailana.com.