SACRAMENTO, Calif., Aug. 10, 2016 /PRNewswire/ — Wai Lana Yoga's Namaste music video, which was released during the Yoga day last year, has touched many hearts. The worldwide popularity of yoga was given its long-due recognition last year when International Day of Yoga was inaugurated on June 21st. As part of the festivities, world-renowned yoga teacher Wai Lana released her Namaste music video, which soon became an anthem for the global yoga community. Namaste struck a chord with people all over the world with its message that "we are all brothers and sisters and part of one big family," affirming that the wisdom of yoga offers a simple yet powerful foundation for improving our lives.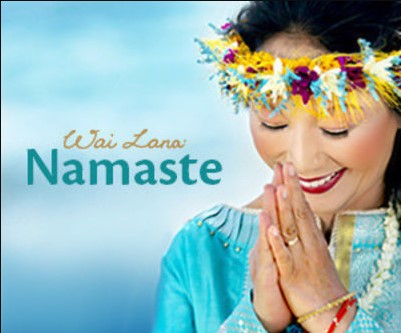 Fans of the Wai Lana Yoga television program are well aware of the host's unerring talent for location scouting: no matter what she's doing, the camera always catches her in spectacular surroundings. She applied that vision to the "Namaste" video, it's all breathtaking, and it all underscores Wai Lana's profound faith in the goodness of the world and the possibility of spiritual transcendence. This relaxing, uplifting, and beautifully shot clip is more than just a cinematic expression of the power of yoga — it's a winning, compulsively watchable music video than could fit in on any eclectic playlist.
'Namaste' was broadcast at the United Nations Yoga Day celebration and featured at Times Square, where thousands of people gathered to celebrate. Since that time, it has been viewed over 4 million times (over 2,100,000 views on YouTube, over 700,000 views on Facebook, and over 1,100,000 listens on Sound cloud).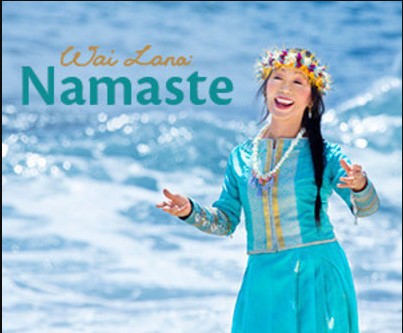 Wai Lana recognizes that when there is harmony in our relationships with others, people are naturally happier. In regards to the success of Namaste, Wai Lana said, "It was very heartwarming to see that so many people enjoyed Namaste and that it helped bring people together in a spirit of unity. When people are open to this message, it shines some brightness into their lives. When we understand we are all brothers and sisters and deal with others with respect, we can truly experience inner peace, and there can be harmony in our families, society, and in the world."
A video excerpt from an interview of Wai Lana explaining the inspiration behind the making of Namaste, can be viewed here: https://youtu.be/FsqpzcL8DbE
Padma Award Winner
Earlier this year, Wai Lana was honored with India's prestigious Padma Shri award for her extraordinary achievements in popularizing yoga globally. The Padma Awards are the highest and most well known civilian awards in India for exceptional achievement in a particular field of human endeavor.
About Wai Lana
Wai Lana is not only a beautiful and charming yoga teacher, she is a mother of three, grandmother of six, song writer, author, and genuine advocate for helping people from all walks of life attain inner peace & well-being.
Wai Lana's Namaste official music video
https://www.wailana.com/lifestyle/namaste 
https://www.wailana.com/about-wai-lana
https://www.wailana.com
Wai Lana Yoga Social Media
https://instagram.com/wai_lana
https://twitter.com/wailanayoga
https://www.facebook.com/wailana
Wai Lana Yoga Social Media
https://instagram.com/wai_lana
https://twitter.com/wailanayoga
https://www.facebook.com/wailana
Wai Lana Yoga Music
https://www.wailana.com/AF
https://soundcloud.com/wai-lana
Wai Lana Yoga PBS Shows
https://www.wailana.com/yoga/wai-lana-yoga-tv-series
http://www.kqed.org/tv/programs/index.jsp?pgmid=8749
https://en.wikipedia.org/wiki/Wai_Lana_Yoga
Wai Lana Yoga Products
http://www.yogastudio.co.uk/collections/wai-lana
https://www.amazon.com/Wai-Lana-Yoga-Beginners-Workout/dp/B0000YEET4
Media Contact:
Fiona Fitzgerald
800-624-9163

SOURCE Wai Lana